If your district already uses Clever, connecting to your Scholastic digital subscriptions takes only a few clicks!
These steps should be performed by a district's Clever Administrator:
Sign in to Clever and accept Scholastic's invitation.
Share the correct roster data with Scholastic. We recommend sharing only your Reading or Language Arts classes.
Review your data and edit if necessary.
Confirm when your access will begin.
Once access starts, your educators and students can sign in using the Scholastic icon in your district's Clever Portal or by using the SIGN IN WITH CLEVER option at http://digital.scholastic.com.
For more detailed instructions on each of these steps, see below.
Accept Scholastic's Invitation
Only a district's Clever Administrator can accept Scholastic's invitation to connect through Clever.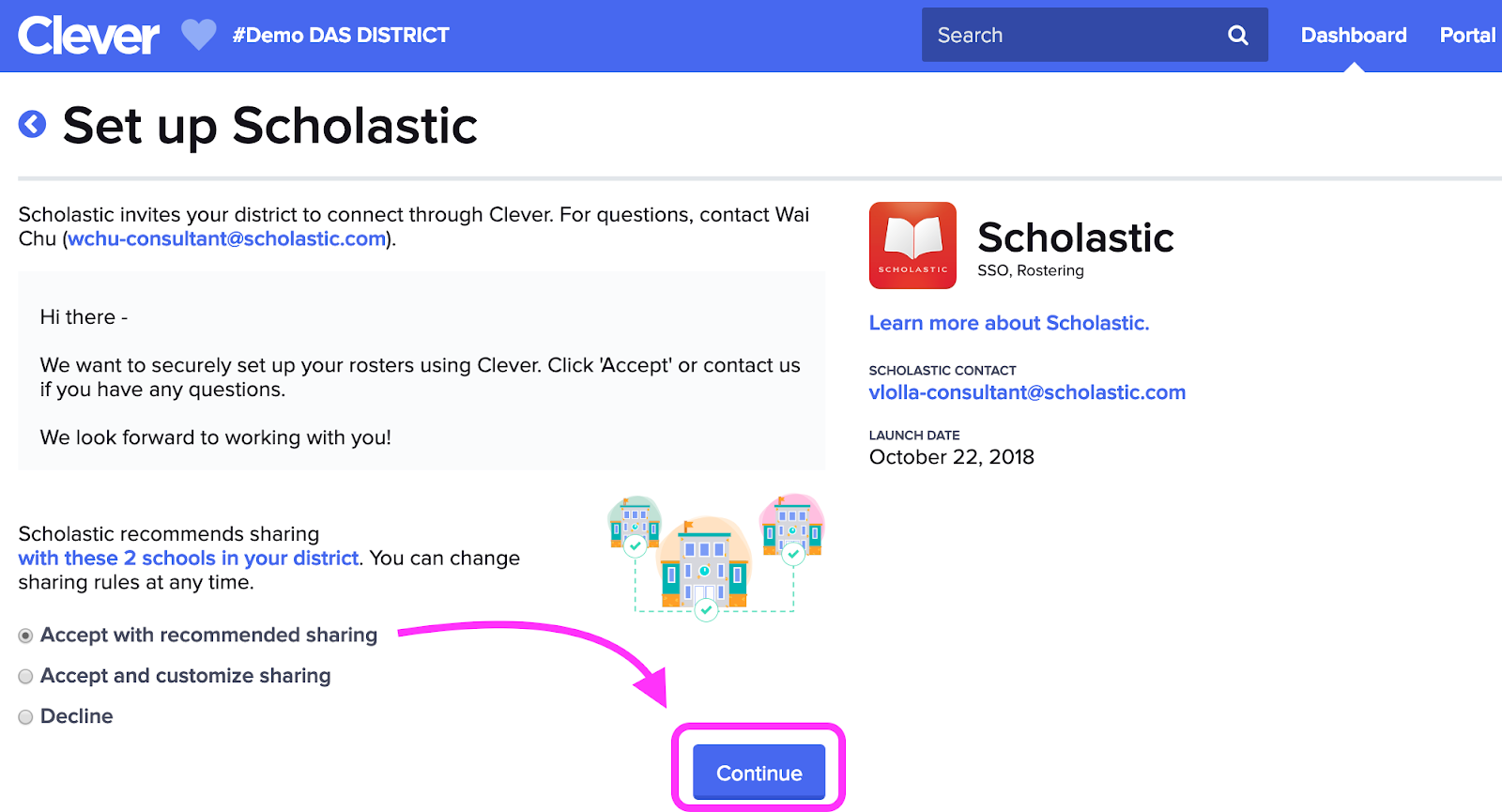 Select the ACCEPT YOUR INVITATION link within the email invitation from Clever or find Scholastic's invitation inside your Clever dashboard.
We recommend that you select ACCEPT WITH RECOMMENDED SHARING. The recommended sharing rules are based on your district's purchased licenses, as well as the grades and subject levels relevant to your subscriptions.
Select CONTINUE.
You can update your sharing settings within Clever at any time.
Review and Edit Your Data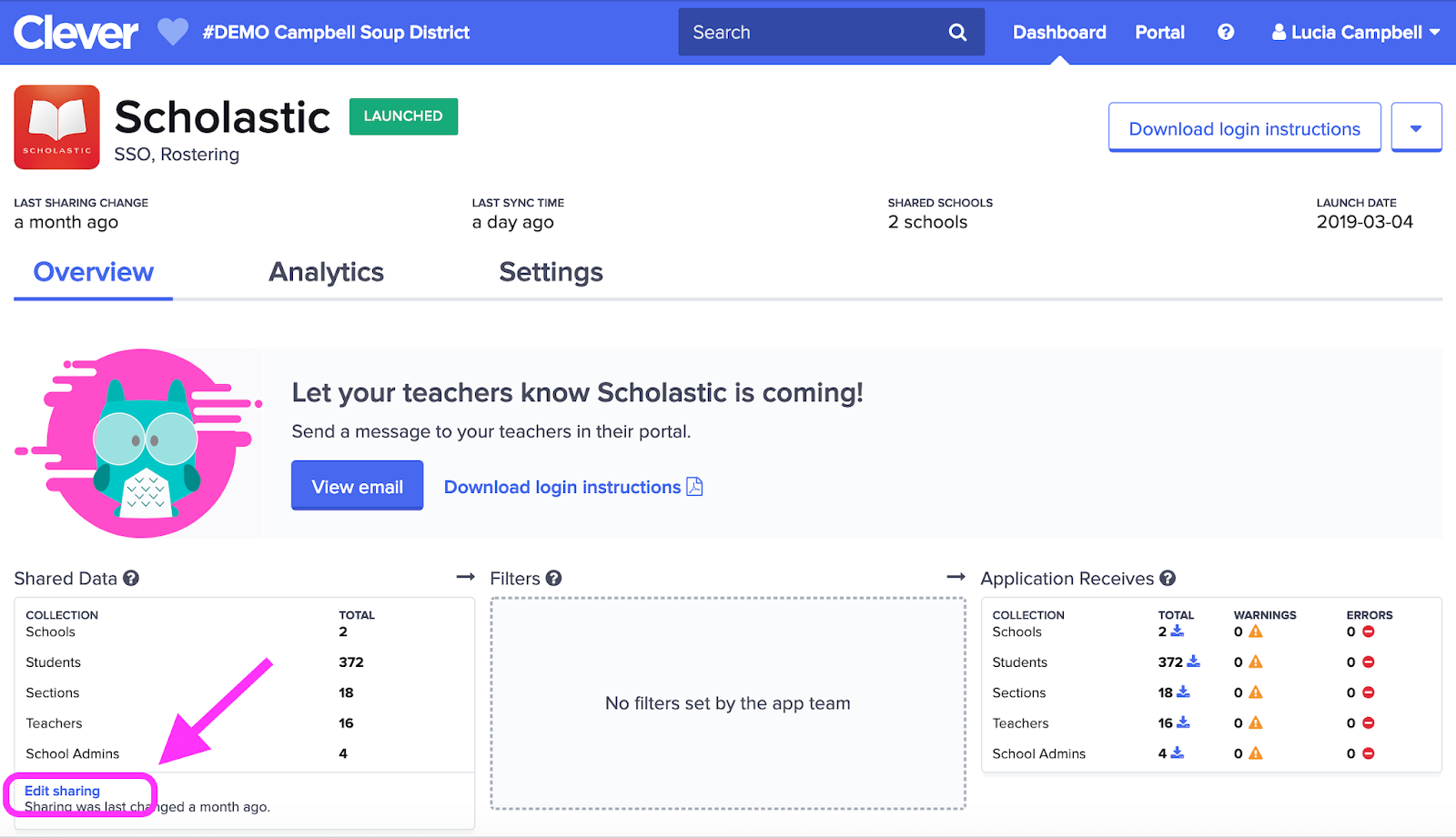 Review the data shared with Scholastic on the Scholastic overview page inside your Clever dashboard.
For a deeper view of your shared data, use Clever's Data Browser. You can also search for a particular record using the SEARCH box located at the top of your dashboard.

Make changes at any time by selecting EDIT SHARING at the bottom left of your Clever dashboard.
From here, you can select ADD ANOTHER RULE to add a new data-sharing rule (such as Share only students with ELL status = Y) or you can edit your existing rules by selecting the PENCIL icon.
To save your current rules, select SAVE SHARING RULES.
Confirm Your Launch Date

You can locate your launch date from the Scholastic overview page in your Clever dashboard. Your launch date is the day when the Scholastic icon will appear in your Clever Portal for administrators, educators, and students.
To update your launch date, please contact Customer Service:
Phone:
1-866-826-8834 (Mon.–Fri., 8 a.m.–5 p.m. EST)
Sign in with Clever
You have two options to launch your Scholastic subscriptions using Clever:
Sign in to your district's Clever portal and select the Scholastic icon from your list of available learning applications.

OR, use the SIGN IN WITH CLEVER option at http://digital.scholastic.com.
Signing in as a district administer via Clever is not currently supported. District administrators need to sign in at
http://digital.scholastic.com
with their Scholastic Digital Manager usernames and passwords.
For more information, see Clever support.