1. View your available subscriptions
To access your administrator account, you must sign in to Scholastic Digital Manager or launch via your organization's rostering method. If you are a school administrator that is using Clever, you may be able to launch Scholastic Digital Manager directly from your Clever dashboard.
Once signed in, you can view all of your available Scholastic subscriptions on the Home tab.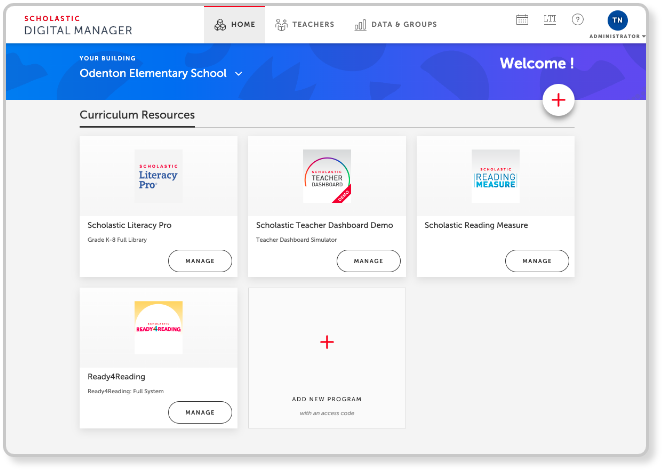 2. Ensure teacher access
In the new TEACHERS tab, view your active teacher list and review to make sure it's up to date. Add or remove teachers individually, in bulk, or by syncing with a third-party integration.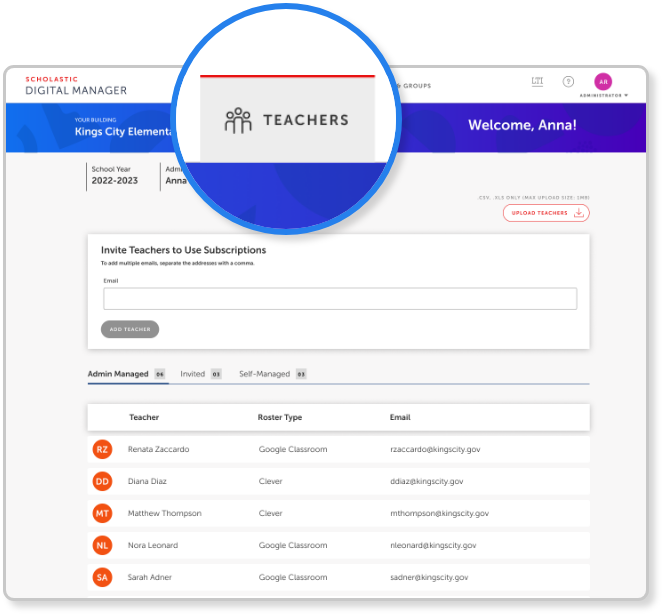 You can also manage teacher access from your Administrator Dashboard.
Launch SDM and select your Administrator Dashboard.
Select the MANAGE button located at the bottom-right of a program tile to manage teacher access.
Enable the toggle to the right of a teacher's name to GRANT TEACHER ACCESS.
To give all teachers in your building access to the program, click the ADD ALL TEACHERS link.
3. Identify next steps (if any!)
If your teacher list is correct, your role in onboarding is now complete! When new teachers are added, they instantly receive an email to sign in and activate their subscriptions. Here are the teachers steps for reference. Please note: You can alternatively share access codes with teachers if you have already received earlier instruction to do so.
Need more information? Visit our Success Center to quickly find everything you need to onboard, roster, and implement your programs. If the information you need is not listed above and you need assistance, please let us know how we can support you. You can reach our Scholastic support team at (800) 724-2222, option 6 (Mon.–Fri., 8 a.m.–7 p.m. ET), or by emailing digitalservice@scholastic.com